An exciting home-away-from-home TV experience that enhances their stay.
As an authorized national dealer of DIRECTV entertainment solutions, Flagstaff Satellite & TV brings great entertainment and customized TV solutions to hotel properties, healthcare and educational institutions, and senior living communities of all sizes. Our promise is to always deliver the best service and support, while DIRECTV's technology gives you greater flexibility, reliability, and control over your TV system.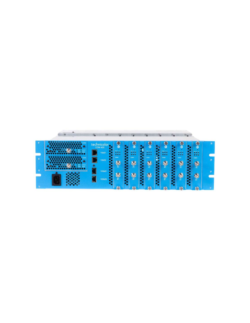 DIRECTV Centralized Headends
Deliver a fully customizable channel lineup to the TVs throughout your property without the need of any equipment in the rooms. Viewers will enjoy their favorite HD channels from DIRECTV and your property will benefit from a cost-effective and low-maintenance solution that will keep your customers satisfied and entertained.
Unique channel lineup to meet your property's standards
No in-room equipment needed
Private, in-house channel capability
Electronic programming guide
Scalable equipment in one convenient location
Energy efficient
Ideal for any size property utilizing existing wiring
Remote monitoring capability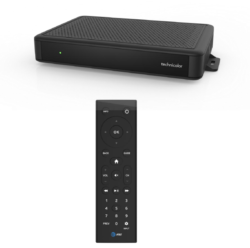 DIRECTV's Advanced Entertainment Platform (AEP)
Expand your property's programming offering with DIRECTV's Advanced Entertainment Platform. The app-based over-the-top solution adds multiple On Demand content libraries in addition to the COM3000 headend system.
Interactive and Customizable program guide
Stream shows from dozens of cable networks through the DIRECTV On Demand App
Includes access to premium and music channel content without the need of login information
DIRECTV Residential Experience (DRE)
Brings a true home-away-from-home TV experience to your property, offering viewers over 100+ HD channels, and the interactive program guide they are used to seeing in their homes. Available in both managed and unmanaged versions to suit your property's specific needs.
Familiar residential DIRECTV lineup
Interactive program guide
Simplified, anti-microbial remote control
Management control server
Guest welcome screen features hotel branding, in-room messaging, local weather & amenities, and more
PMS integration
Customized channel lineups, private channel capability
Remote monitoring capability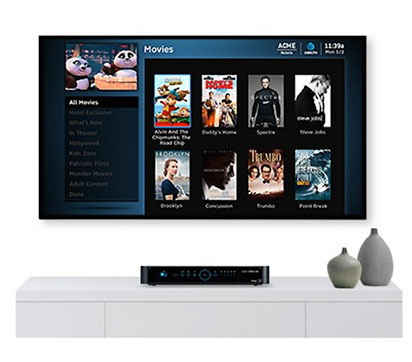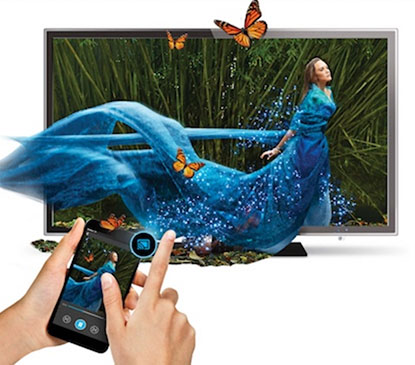 DIRECTV Streaming Solution
Give your guests an unparalleled array of entertainment choices with DIRECTV STAYCAST, a streaming solution powered by Google Chromecast. With STAYCAST, they choose content from apps on their own personal devices that securely and easily streams to the TV in the guestroom, via a private network over your property's Wi-Fi. This solution is a must-have, value-add offering that discerning guests are coming to expect from hotels.
Provides access to more than 1,000 Chromecast-enabled streaming apps.
Cost-efficient – compatible with your existing wiring and all DIRECTV HD systems
Easily deployed – integrates into new and existing properties with any DIRECTV HD Entertainment system
Convenient and secure – guests use their own devices, they don't have to log in separately on the TV in their guestroom
Need help? Our team is here to assist you.